2013 Head to Toe: The Midwest Interactive Infant-Toddler Conference™
The Head to Toe Conference brings together more than 500 professionals in infant-toddler early care and education including early intervention and infant-toddler specialists, home visitors, social workers, mental health providers as well as physical and occupational therapists. This year, pediatricians, dieticians and other allied professionals will be joining us as programming partners and conference participants as we continue our efforts to build healthy families and healthy communities.
We will come together for one full day to target the research and advancements in Language and Literacy; Curriculum and Play; Temperament and Behavior; Family Centered Approaches to Improve the Quality of Care as well as Physical Growth and Development.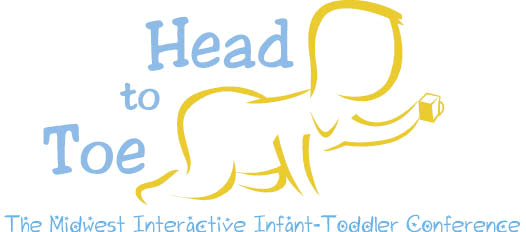 Date: June 1st, 2013, 8am - 4pm
Cost: $75

Location: University Center Conference Chicago, 525 S. State St., Chicago, IL 60605


Download Preliminary Program

University Center Conference Information
Download the area amenities map here
Download the parking and transportation PDF here
Become an Exhibitor
Hosting a table gives you the opportunity to personally connect with hundreds of industry leaders who work with infants and toddlers. You may use a table to sell, demonstrate, and take orders for educationally-related products and services. We will be accepting applications on a first come first served basis. Exhibit tables will be located on the same floor as the conference workshops. The booth fee includes one 8' undraped table, two side chairs, and a table top sign. A listing in the conference program is included if the booth is reserved by May 3, 2013
Download the Sponsorship and Exhibitor Prospectus here
Become a Sponsor
Increase your visibility. Become a Head to Toe sponsor! Applications are being accepted for Sponsorship at a variety of levels. Sponsorship levels are silver, gold, platinum and diamond. If interested, please see the comparison chart on page five, call 312.427.5399 or email gconway@chicagometroaeyc.org.